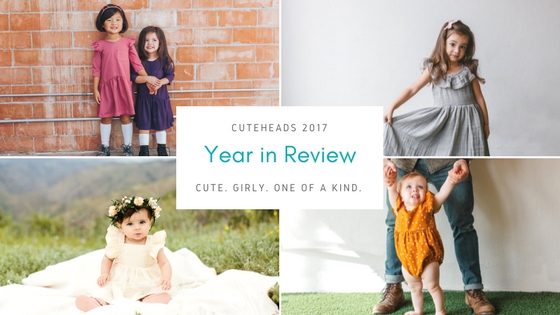 2017 was quite a year, and that's putting it mildly. We thought it necessary to share our 2017 year in review, so we could reflect back on where we've been and share where we're going.
There were twists and turns around every corner. It was a major growth year for cuteheads and we welcomed so many new customers and team members to our crew. We launched three major collections, created dozens of bespoke dresses, and got to be a part of countless celebrations, for which we are so grateful.
It was also a year of major challenges, as we faced Hurricane Harvey in our home base of Houston, TX. Many of you experienced it with us, or went through a natural disaster in another part of the country. We were proud to make a donation to Houston's hurricane relief fund by donating the profits we made in the month of September.
In spite of the challenges we faced this year, we had a lot of time to think critically about the direction cuteheads should and will go. And I think what you will see in the coming year will excite and delight you.
Here are a few of the things on our roadmap:
– A brand new logo & brand experience
– More collections and more often
– Our first-ever preorders
– Expanded accessories collection, so you can easily complete your outfits in one place
– Baby gift kits, which will include a cuteheads romper & cute baby items, taking the guessing out of baby shower gifting
Just to name a few.
But most importantly, the heart of the brand you know and love isn't changing at all. We're just becoming bolder and more confident in what the brand has become in the last 5 years.
We look forward to serving you and your family in 2017. We will continue to listen to you and connect with you. We can't wait to make more special dresses for your special little ones.
Peace and love,
Esther
Founder & Creative Director, cuteheads
Teamed up with several bloggers to design their dream dresses. We donated 100% of the profits from the sales of these dresses. 
Worked with so many incredibly talented photographers. 
Accepted into Dressed Collective, an incredible group of handmade designers, located all over the world. 
Raised money for Hurricane Harvey relief. 
Created our first-ever Halloween costume capsule collection. 
Launched three major collections — including SS17, shown here — and three capsules. 
Launched holiday-specific pieces, including the Valentina dress for Valentine's Day (now available again for Valentine's Day 2018!)