I don't know when my hoarding tendencies began, but it must have been at a very young age. I've never really been one to get rid of clutter, nor did it ever bother me that much. I loved collecting things. I had collections of everything: Pogs, jewelry and beads, cards and letters, and more. I guess you could say I have trouble letting go of things that hold sentimental value, and things I think I might need one day, even if I haven't needed it in several years. It makes no sense, but that's just how it's always been. I think if you asked my good friends, they'd be completely shocked if they knew I was a pretty disorganized person (and they'd probably disagree), but my husband knows the truth. And now you do too.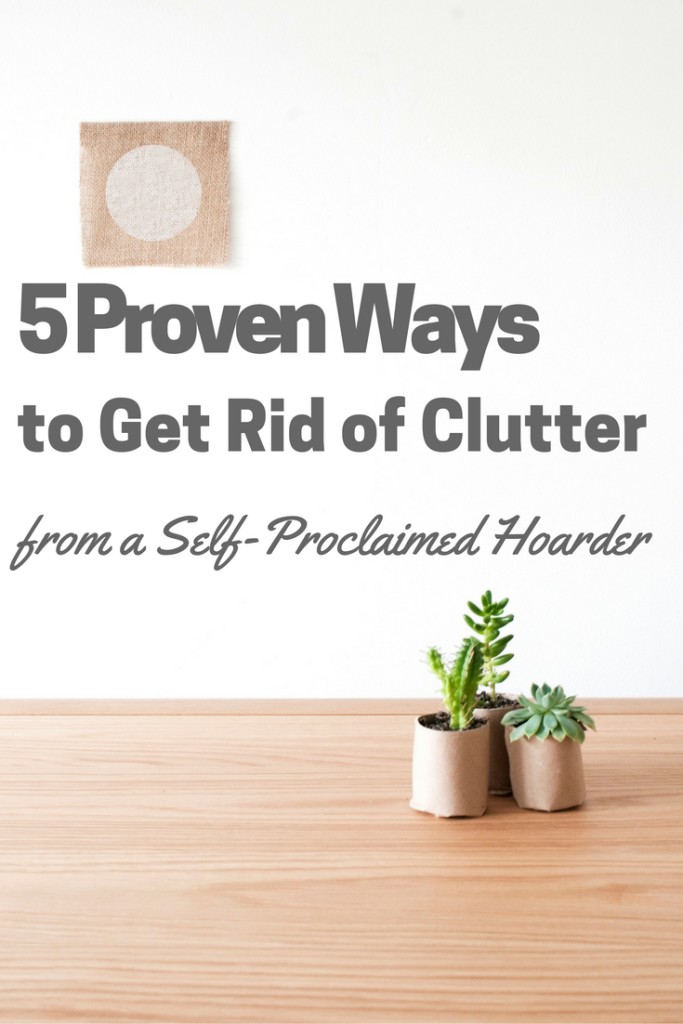 Now that I'm a mom and I'm a grown-up (ugh) and
running a business
at the same time, I try to keep my hoarding tendencies at bay. I get very frustrated when I can't find things, and that's already very easy for me because I have a serious and permanent case of  mom brain, so I have to take the proper steps to stay as organized as possible. Running a small business, being a mom, and balancing it all, I really have no choice but to try be as organized as possible. And that also means finding the things that work for me.
I am in no way perfect, but lately I've been on a cleaning and organizing kick. And with the popularity of "
The Life-Changing Magic of Tidying Up
," I know ways to get rid of clutter have been on other people's minds too. So here are my most powerful organizing tips, from one of the most disorganized people I know: me.
5 Proven Ways to Get Rid of Clutter, from a Self-Proclaimed Hoarder
1. Start with the places you can see. Much like trying to get into shape, when the numbers on the scale don't seem to be moving, it can be very discouraging. Start with a spot that you look at every day and say "GROSS" every time you pass by it. There will be a lot of satisfaction in the visual of seeing the results regularly.
2. Don't feel bad about having a big "delay" pile. When decluttering, you're supposed to have three pikes: keep, delay and toss. The problem is, my delay pile is always the biggest. Because I don't like to part with things, I sometimes try to reason my way into keeping things I'll never need, and sometimes I'm successful at it (which means unsuccessful at decluttering). I finally gave myself permission to do that, and it gives me more mental space to actually start decluttering in the first place. It takes some of the pressure off, knowing I don't have to be ruthless with myself.
3. Focus on what's easy. One of the fastest rooms to declutter is the bathroom because it's mostly stuff you can't even use anymore, like expired beauty products. So focus on clearing off counter space there, tossing out old razors, lotions, creams and other things you really don't use anymore and didn't even cost that much to begin with. Cleaning out my bathroom was one of the quickest and most satisfying decluttering projects. So much so, that even now that it's done, I'm trying to find more ways to declutter it. Maybe I'll become one of those neat freaks yet!
4. Chase that paper (then throw it away). Why do we keep papers we know we don't need? I knew I had bills and credit card statements and tax information for cuteheads that needed trashing, but a) didn't have the time, and b) I had security concerns. So we bought a cheap shredder and finally got rid of all that stuff. I made sure to mix up the shreds really well and recycle them in separate bags before getting rid of them.
5. Enlist the help of a professional. When all else fails, call a decorator or an organizer, who specializes in this kind of thing. It might seem silly, but there's a reason this job exists: it's not as easy as it looks. There is a real skill to cleaning and organizing, and I don't think I was born with it, so a little help can go a long way. I plan on enlisting the help of my friend Natalie Weakly for my dreaded closet, because she's an expert at putting together outfits with items you already have. Once I get a feel for what I know I'll be wearing in the future, I think I'll be able to tackle getting rid of more things.
How do YOU stay organized as a business owner or manager of a household? I'd love to know, I need all the help I can get!