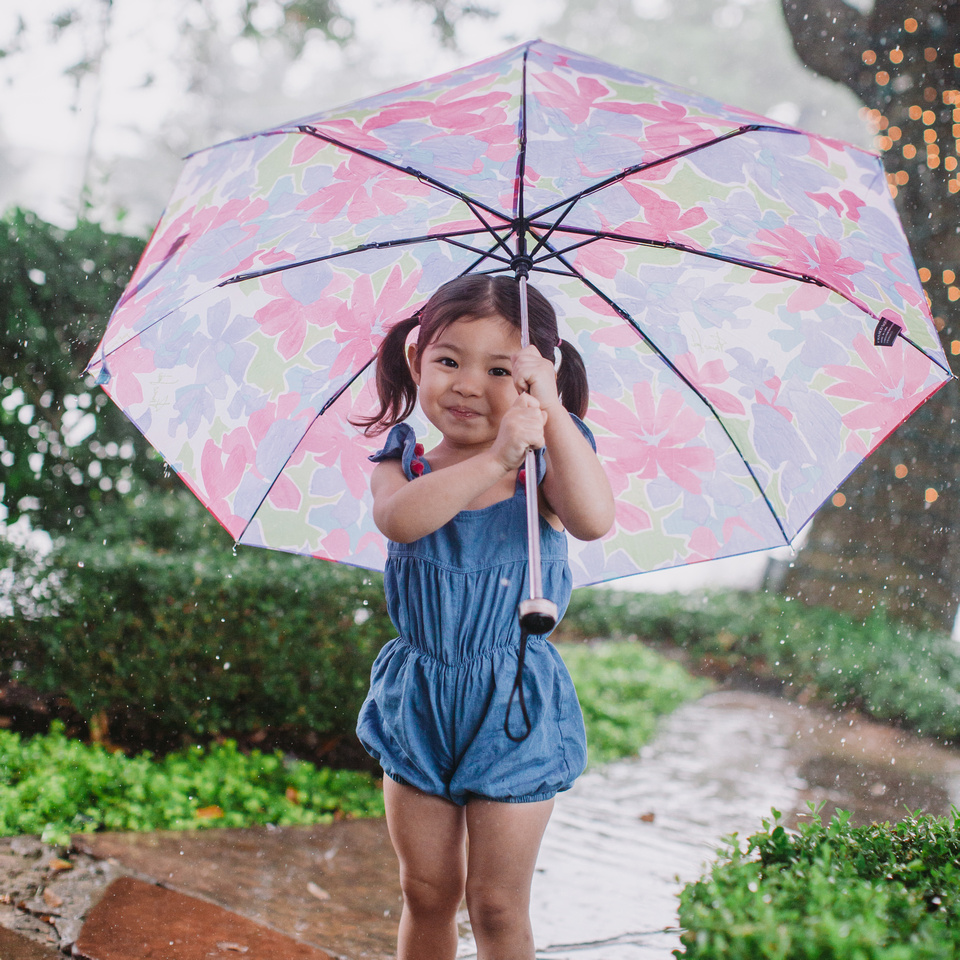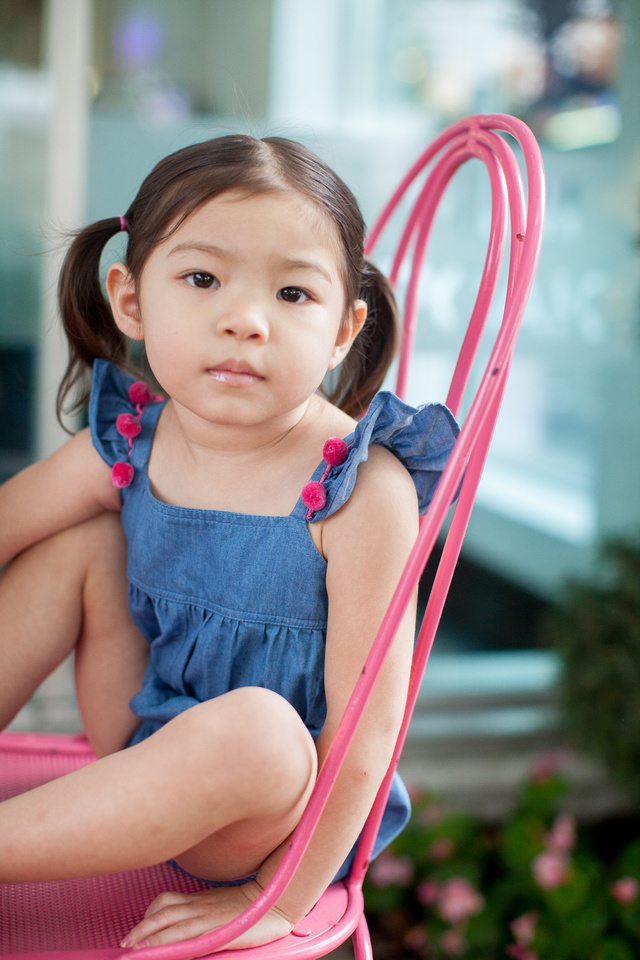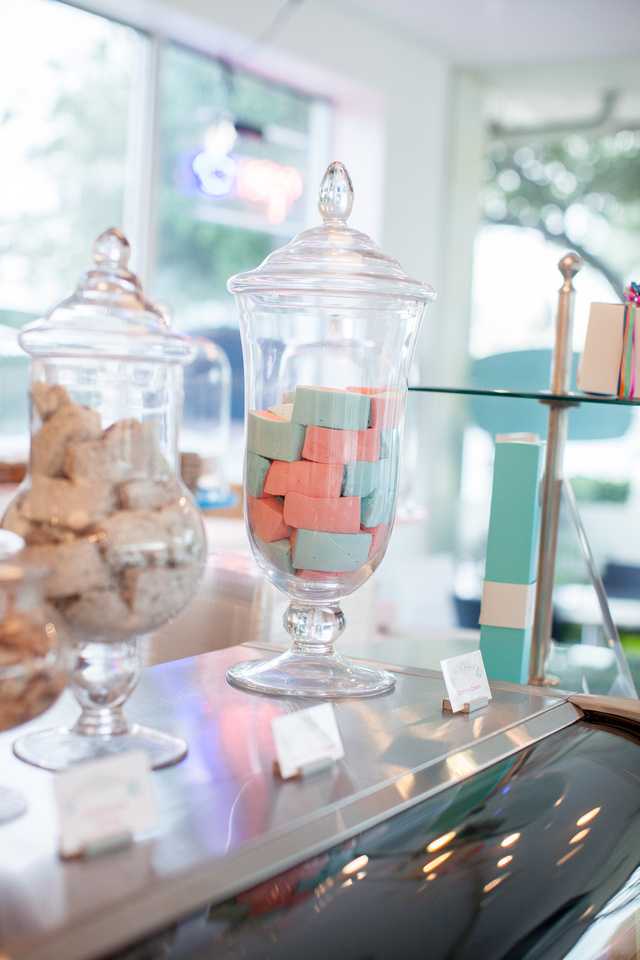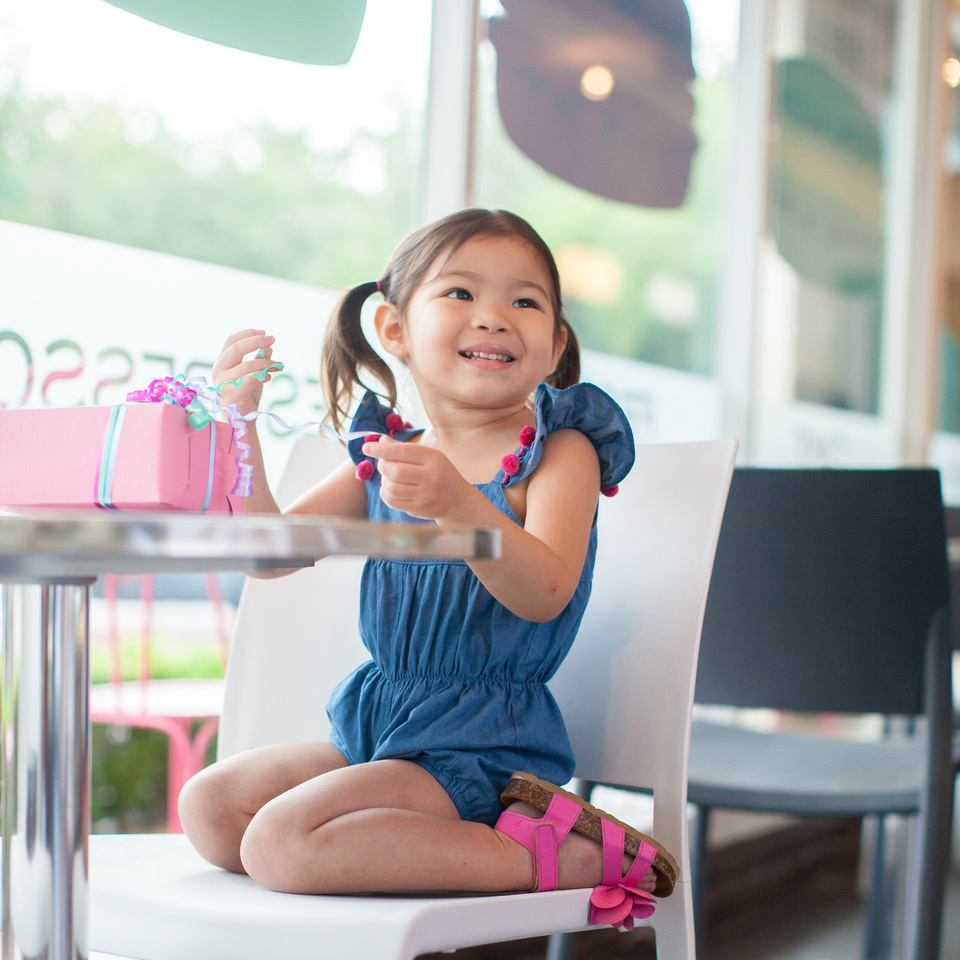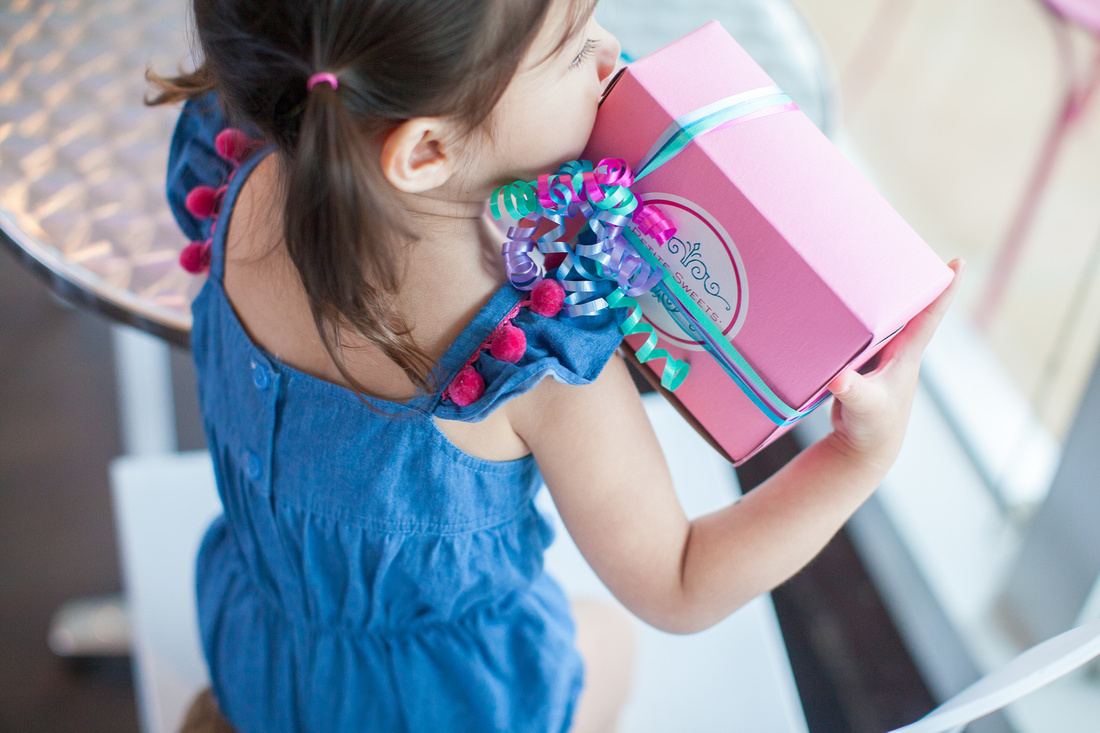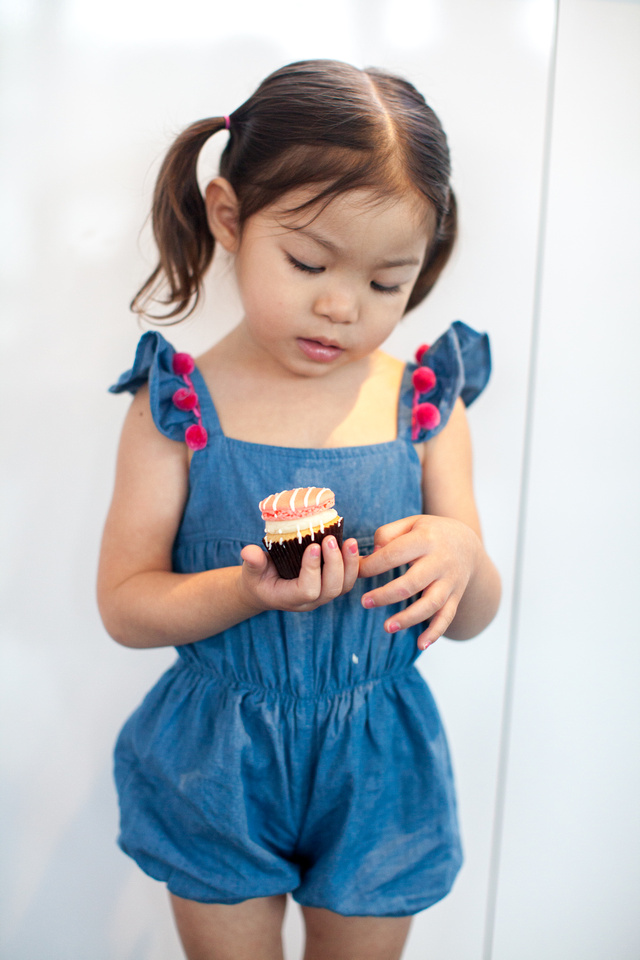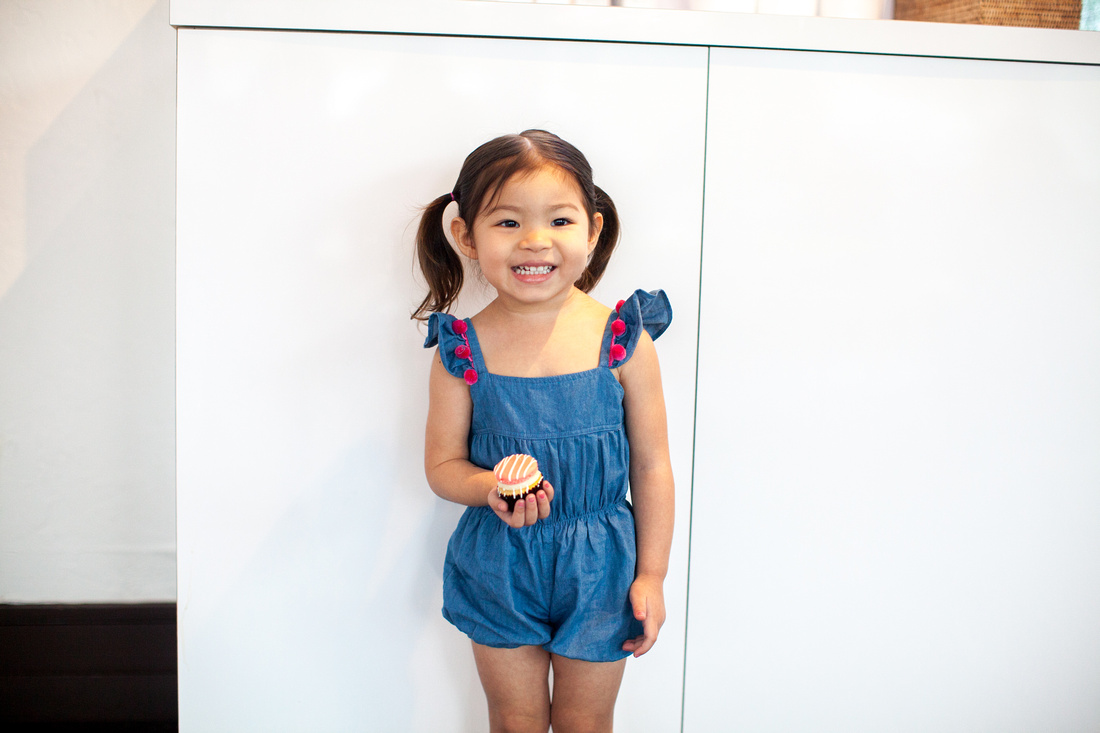 On Sophia: cuteheads Chambray Romper with hot pink pom poms || On Naomi: cuteheads Ellis Top || Shop the entire cuteheads collection || Photography by Ashley Cardoza
I had a very hard time editing down the number of photos for this post. The day we shot this, the rain was coming down and it would have been a crime NOT to use the light. I just so happened to have an umbrella with me that matched our Chambray Romper perfectly. On top of that, who doesn't want to look at pictures of dessert? And on top of THAT, our model was absolutely adorable! So it was pretty much a losing battle for me in the photo editing department this week. But there are worse problems to have.
Petite Sweets, a local bakery in Houston with gorgeous — you guessed it — mini desserts and beautiful natural light welcomed me and Ashley in this week to shoot cuteheads new romper. Our model, Sophia, wasn't much of a sweets person, unlike the girls from our Three Brothers Bakery shoot, but luckily I had my daughter with me that day who screamed until I gave her a cookie to balance it out. Sophia basically held the cupcaron (that's a cupcake/macaron hybrid!) sweetly and let us get the shot.
I have always been so impressed with not only the desserts at Petite Sweets, but the design of the space and the execution. They have a unique, stand-out point-of-view and you get it as soon as you walk into the shop. Pastry chef Susan Molzan, who I was introduced to by the Houston Tidbits team, has been at the helm since day one, creating delicious treats for Houstonians and inventing new ways to delight us. I sat down with Susan to find out what makes Petite Sweets so special.
Tell me about the concept. What makes Petite Sweets special? 
We were the first place in Houston to offer a huge assortment of French macarons and other desserts.  We normally have between 15 – 20 flavors of macarons.  The beauty of the macaron is the variety of colors and flavors.  They look beautiful displayed and are delicious to eat.  In addition, we offer a variety of petite sweets (hence the name) such as cupcakes, cupcarons, cake balls, cookies, marshmallows, stuffed cookies, frozen custard, custard sundaes and gelato with a macaron on top. We have a lot of variety. All of our sweets are handmade and very labor intensive.  We specialize in custom orders and we do a lot of weddings and corporate events.  We use only pure cane sugar in our homemade marshmallows and the finest Belgian chocolate in our pastries.
Tell me a little about yourself. What is your background?
I grew up in a very small town in western New York State.  We didn't have many restaurants or bakeries so my Mother taught me how to cook and bake.  She was a fabulous cook and baker and I learned to love to bake from her.  I went on to get a business degree in Hotel Restaurant Management from James Madison University and then on to the Culinary Institute of America where I took continuing education classes.
What is a typical day like for you?I work with the staff at Petite, but mostly I love creating new menu items.  Right now I'm working on donuts for the Feed TX newest concept called "Lee's Fried Chicken and Donuts."  I also experiment a lot at home.
You are the owner/pastry chef, that's a lot to handle! How do you balance those two roles? 
I am mostly involved with the pastry chef part.  I am lucky that my partners handle the "owner stuff" that I don't like to do.  I don't have to deal with any of the paperwork that goes along with running a business.  They let me do the fun stuff and they deal with the rest. We also have a really great manager who deals with the day-to-day management of Petite Sweets.
What is your most popular item? 
The French macarons are the most popular.  We also sell a lot of mini cupcakes and cake balls.  Anything "red velvet" sells!
What is your favorite item? 
I really love our homemade marshmallows.  They are so much fun to make and they are delicious.  I also love our chocolate dip that we make in house for our custard cones.  It's like the Dairy Queen hard shell but it actually taste like chocolate.  The mini oatmeal cream pie is another of my favorites.
How do you decide which new flavors you're going to make? 
I love looking at cookbooks, reading blogs and using pinterest to see new stuff.  Both my girls are constantly making suggestions for new ideas and flavors.
Do you have any advice for someone interested in opening restaurant? 
Yes, don't do it unless you want to work 90 hours a week and be on your feet all day.  Actually it's a fun business and you get to meet the nicest people who turn out to be life long friends.  I wouldn't trade it for any other kind of work.