Houston is what we all call "a big small town," where everyone pretty much knows each other, or knows of each other. For a long time, I'd heard Veronika's name (mostly through my friend Megan, another Houstonian), but hadn't actually met her until a few years ago, when Naomi was wee baby and got to participate in a photoshoot for Willow Crowns.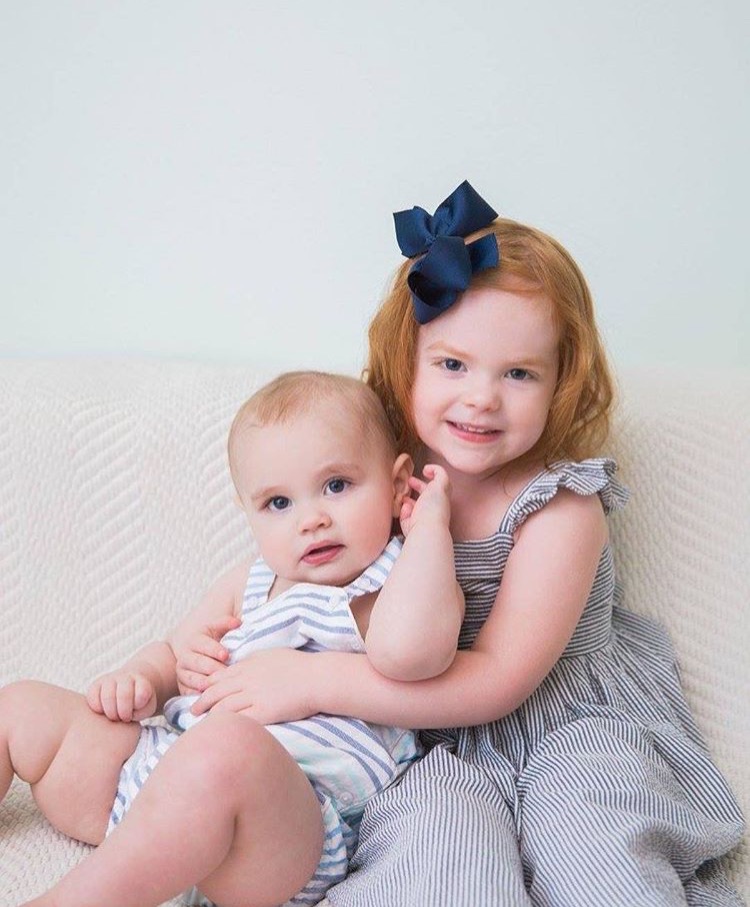 Harper wearing the Kennedy Dress
And from that day on, I was totally smitten with both her and Harper. What I love about her is she is SO supportive of other women — especially other working, professional women — and she goes out of her way to promote and support shop owners she loves. Over the years, we've teamed up on a number of things (with another in the works!) and I've dressed her sweet Harper for lots of special occasions, from her little brother Lincoln's first photoshoot, to her birthday party.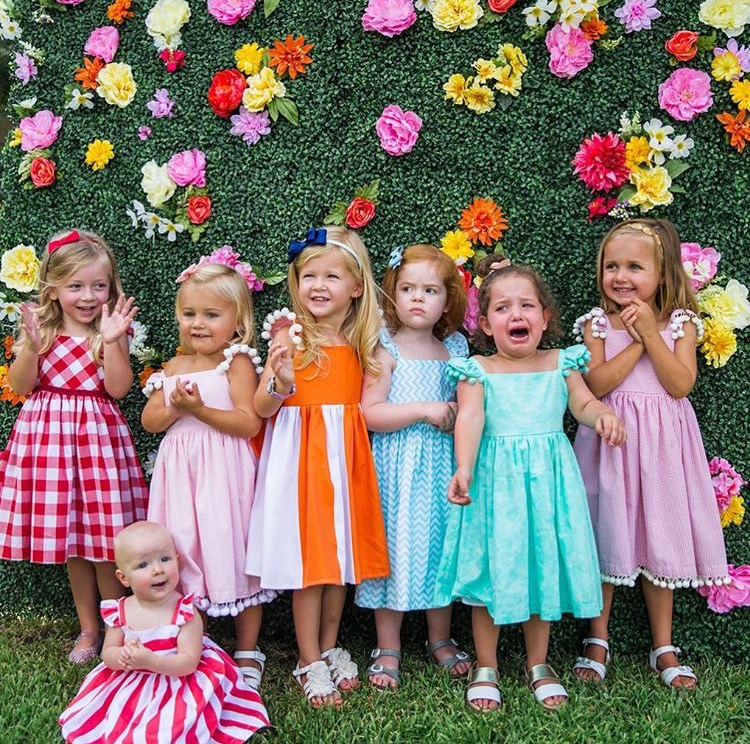 Who could forget this shot from the photoshoot we did where all the kids wore custom cuteheads dresses and my kid was the one not having it?
I also admit that I love her outspoken ways, and that she tells it like it is. We need more of that.
And along the way, we've become friends. So it seems only fitting that we feature this kind, caring soul, who has been a great customer and great friend. I don't say this often, but her Q&A is a must-read. It's honest, it's real, and I think you'll really relate. So without further ado, meet Veronika of a Veronika's Blushing.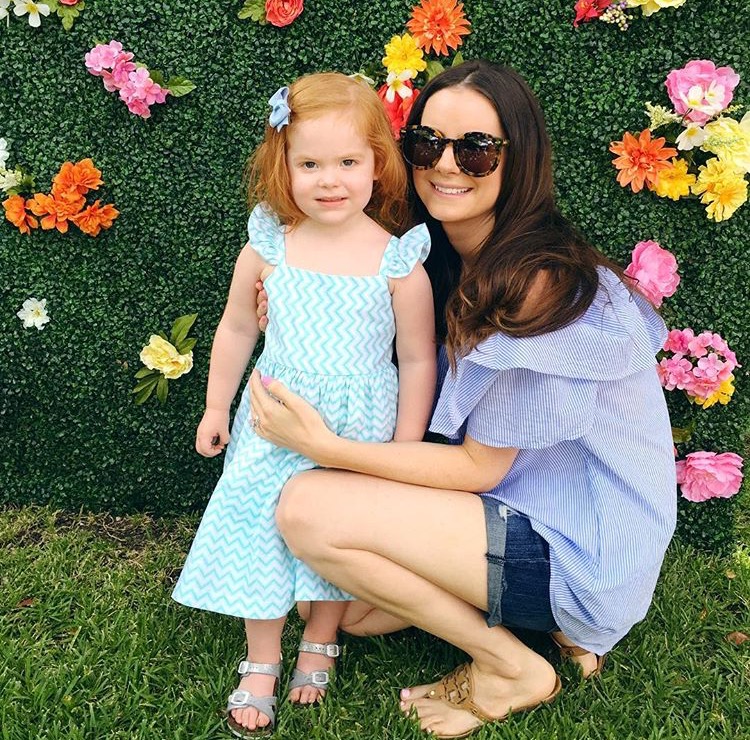 You're a mom of two precious kids, you work full time, and you have a successful blog. Seriously, how do you do it all?
Well thank you— you're so sweet! I started my blog long before we had children and it's something I love so I make the time for it. I've learned to be efficient in terms of my content. I only shoot photos on Sunday and I spend Sunday evening and some weeknights after the kids are asleep working on content. Working full time means I can only post a few days a week, but I think a lot of my readers connect with the fact that I work outside of the home and they're understanding that my content ebbs and flows depending on what's going on in our lives. I'm grateful to have such awesome readers!
What are some of your best tips for time management?
With so many responsibilities pulling me in different directions, for me (and this is corny), it comes down to passion. Are you passionate about what you do? I find that being passionate drives people to succeed. I'm blessed beyond belief to have a full time job that is extremely fulfilling (I do PR for a children's hospital) and my blog is something I'm also passionate about and invested in. I'm a multitasker by nature and I try to find ways to juggle it all. I'm also never afraid to hire help. We have someone who deep cleans our home and I order almost everything online. We outsource what we can so that we can focus on our family. Night time is my time to "get things done" so I have a routine —after the kids go to sleep I'm on my laptop and (my husband and I) usually watching a show together while I'm also getting some work done on the blog.
You're a big supporter of the #shopsmall community. Why is that important to you?
I've been really fortunate to be able to grow my blog to the point where it actually provides an extra income for our family. I want to give back and support other women who are trying to achieve this for their own families, so sharing shops I love with my followers is a win-win. If I can play even a small role in helping someone grow their business, that gives me a tremendous sense of happiness. We live in a world where people aren't always supportive (especially women supporting women) and I want to be a helper and a doer — I want to help women flourish as I have. There is a place for all of us to succeed and be fruitful in our support of one another.
The small shops community has also blossomed some genuine friendships for me— I'm so thankful for that. I've learned a lot from my friends with small shops and watching them grow has been an uplifting experience.
What have been some of your biggest parenting struggles?
Definitely my anxiety. I'm a very anxious person and have been since I was a child. I worry a lot and having a job where I see a lot of rare children's health scenarios has added an additional dimension to my anxiety that I never anticipated. I think learning to "let go" and worrying less is something I'm continually working towards. Like every mom, I also struggle with moments where I have bad days and beat myself up about how I should have responded differently to whatever the scenario may be. I think as mothers we can all relate to that on some level. Mom guilt is real and every mom I know, no matter her life circumstances, feels this on an ongoing basis. Learning to give ourselves grace is a struggle but I'm endlessly searching for the ability to more easily embrace that concept.
What advice do you have for moms everywhere?
To take things one day at a time. I have to remind myself of this constantly— as I mentioned above, it's not something I'm good at. Also— allow yourself the flexibility to change your parenting approach, your beliefs, etc. Flexibility and fluidity are so crucial when you're a parent. Sometimes I have to be more present at work because a lot is going on, sometimes I have to be a little more disconnected from work because my family needs to take precedence in that moment. Being flexible— and unapologetic for it, is something I strive for.
Lastly, I think women and mothers have to be more vocal about our accomplishments. Take the time to say out loud why you're proud of whatever you've achieved. I used to sometimes feel embarrassed if someone brought up my blog because it's "just a hobby" but now, I confidently share how I've grown it into a business. Building something from scratch isn't easy— let's be vocal instead of self-deprecating.