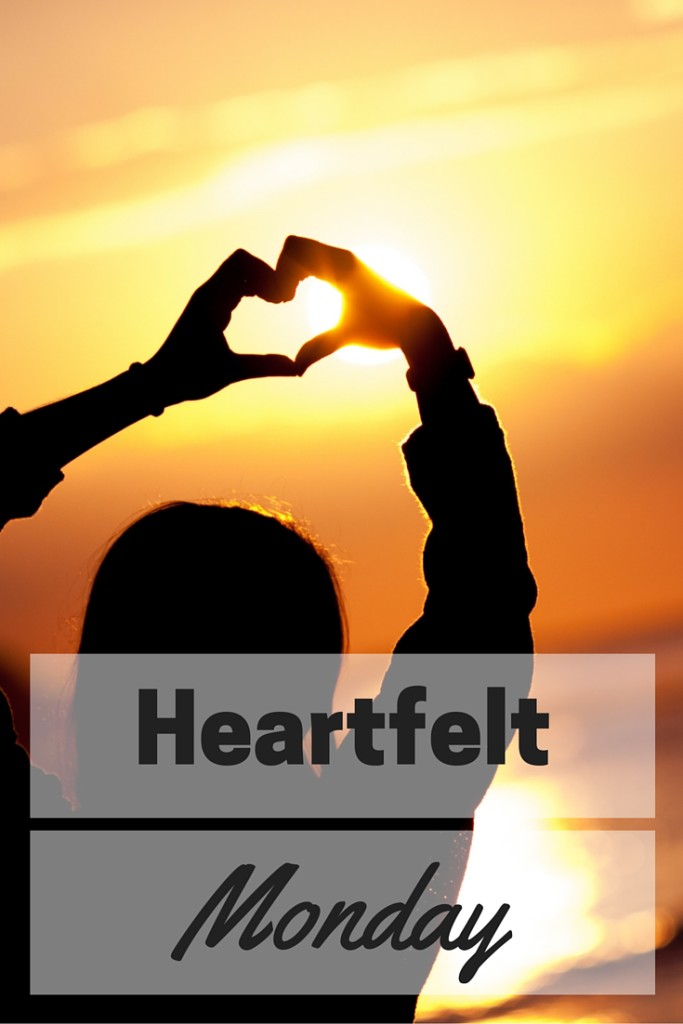 Happy Monday! One of the best things that this blog has allowed me to do is connect with other women who have amazing stories to share, women who have been through things I can relate to, women who have overcome incredible obstacles. I've always been a blog reader; I go in and out of phases, reading all kinds of blogs. Recipes, fashion, parenting… I subscribe to a lot of feeds thanks to Bloglovin, and I love to keep up with my favorite bloggers. But when I think about my favorite types of posts to read, it always come down to this: the best posts are authentic. They're from the heart. They share something real and touch something vulnerable in the writer as well as the reader. They allow us to connect on a deeper level, even though we're not sitting face to face. Inspirational blog posts from my favorite bloggers always make me want to be a better writer, mother, daughter, wife, and friend.
And that is the inspiration behind Heartfelt Monday, a new series I'm launching here on  The Cuteness. The first Monday of every month, I will feature some of my favorite posts from the wonderful women I've connected with in the blogging community and share them with you. My hope is that you find someone or something you can relate to. As a blogger, you never know when something you write is going to help or inspire someone else, and I know at least one of these posts will do that for you.
Whatever you're going through, however you're struggling, there's someone out there going through the exact same thing, and writing the words you're struggling to verbalize. Here are a few of my favorite posts this month. I can't wait to share more.
Inspirational Blog Posts from My Favorite Bloggers
My Journey and Battle with Postpartum Depression, Daily Craving
What's Wrong with Her Face?, Twelve and Six
The Beauty Unveiled Project, Bawlers and Crawlers
My PPD Story, Gav + Ro
On Being a Mother, Truncation Blog
My Grief in Their Growing Up, The Triplet Farm
When I Became a Mama… My Messy, Beautiful, Seven Graces
Let's Keep Going Mamas, Love, Alpha
There Is No Perfect Age Gap, All of Life's Little Adventures
I Can Do Hard Things., For the Joy of Life
Roots + Wings, Honey and Betts
To the New Big Sister, Meg O. on the Go
There Will Come a Day, Southern Made
Sometimes I Don't Have the Patience for Parenthood, Misty Blue Blogs
Dear Emily – An Open Letter to My Two Year Old, Grumbling Grace
This Is Infertility, Caroline In Due Time
Staying Positive: Raising a Child with a Rare Syndrome, A Bird with a Frenchfry
What are your favorite blogs? Which bloggers inspire you? I've love to know in the comments!