Have you heard of cryotherapy? Sounds kind of scary, right? Essentially, it involves standing in a freezing tank for 3 minutes with your head sticking out of the top. I remember my brother telling me last year that he and his wife were doing it and that it was helping with a wide range of things, from chronic pain to energy. But I figured he's a real athlete, who plays competitive tennis and works out regularly. I'm just a small business owner with two crazy kids. I can barely make it to SoulCycle twice a week, let alone go to a cryo chamber every day for 30 days. What could it possibly do for me?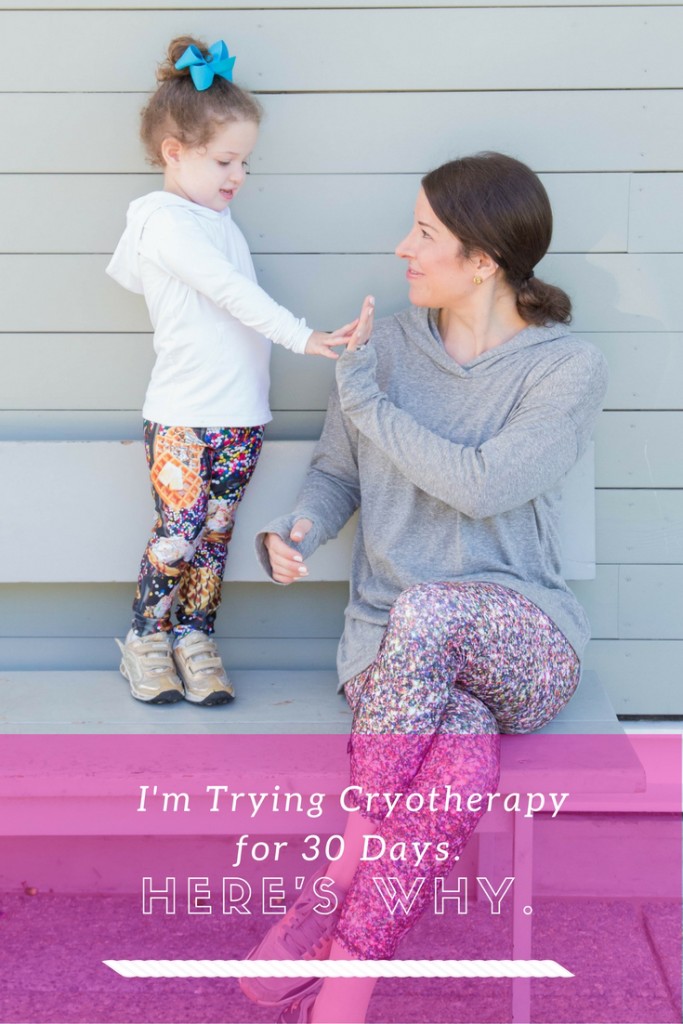 Then I met Kailee and Marissa Wong.
Kailee is an ex-NFL player, who was on the original Houston Texans expansion team. The couple — who have four kids — fell in love with Houston and decided to make Houston their home (and I don't blame them, it's awesome here). They recently opened The Athletic Room, which specializes in cryotherapy, stretching, and compression therapy. I was introduced to them through my husband Doug, who has also been singing the praises of cryotherapy since starting to go. But again… he's a former baseball star with lots of chronic pain from past injuries. He's more the type of person who could benefit from that. Right?
Apparently wrong.
When I really think about how I feel day to day, it's not good. Not good at all. I sometimes wake up with splitting headaches that last the entire day. My energy is low. I'm exhausted. I have chronic pain and plantar fasciitis from years of running. Often times, I feel like I'm crawling to the finish line of my day, struggling to keep my energy up while I cross endless items off my to do list.
Why Cryotherapy?
I value fitness and athleticism, and I do work out pretty hard (when I can). So why shouldn't I qualify as a good candidate for regular cryotherapy, if it's really going to help not just physically, but mentally? And doesn't chasing two kids around qualify as a workout? Their philosophy is that you should "recover like a pro." And while I may not be running Olympic track or competing in the Tour de France, I certainly compete against myself on a daily basis, trying to be better than I was the day before.
Anyone who's trying to do it all without losing her sanity knows that takes a real pro.
Proponents of cryotherapy — and I can include my own family members in this group — swear that is helps with energy, pain, and even weight loss. And as a busy mom of two, with a bajillion responsibilities, all of these things are on my list of things I'd like to improve about my life. It also only takes 3 minutes, you don't sweat or get wet, and you don't even put your head in, so you can pop in between meetings and carpool to sqeeze in a cryo session.
Tomorrow I begin my cryothetapy journey. I will be going for 30 days (only taking Sunday and Monday off because they're closed), and documenting how it improves how I feel.
We moms don't take enough time for ourselves. We don't take care of ourselves the way we should, because everyone and everything else comes first. But tomorrow I will take a small step toward taking better care of myself, not just for me, but for my family.
Stay tuned, we'll see how this goes.