** I was given this product in exchange for a fair and honest review. All opinions are my own.
I'm so excited to share my review of the maxi-Cosi Dana for 2 with you today! But OH. MAN. What a crazy few weeks this has been. Between both girls being sick (one with the freaking flu), strep, ear infections, and more commitments than I care to remember, I feel like I'm finally back in the real world, dealing with a level of chaos I'm comfortable with. Feels good, ladies. Feels good.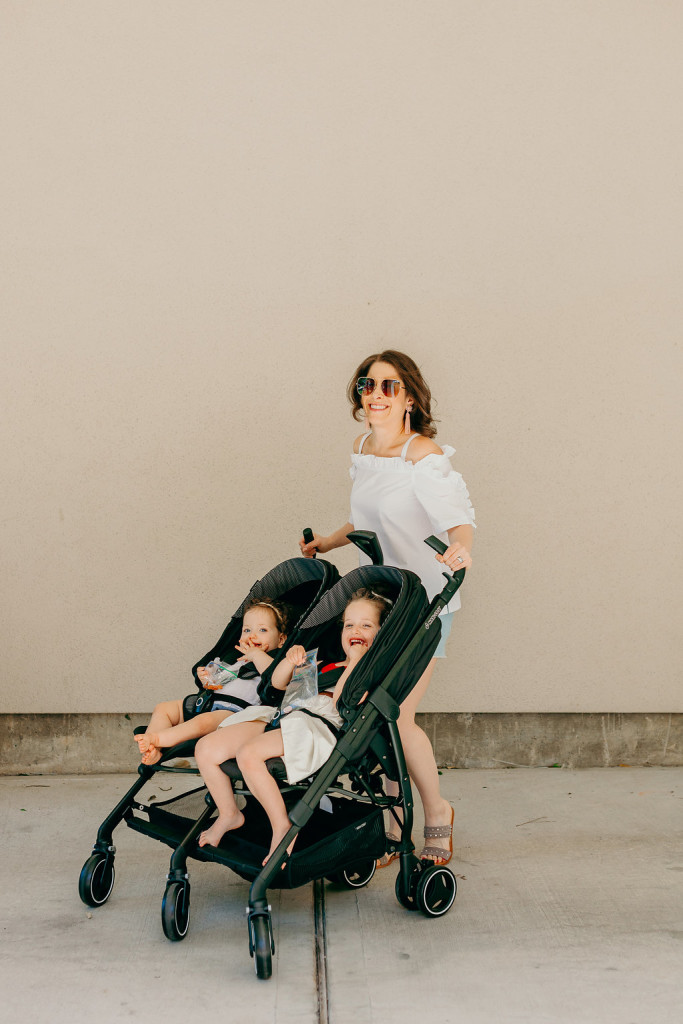 SHOP MY LOOK: sunglasses // top (SOLD OUT) // shorts // shoes 
The best part of it all is that we've had a chance to hang out and do things over the weekend as a family that were both leisurely and cool. We took the girls to Japan Festival 2017, which we'd never been to before. The girls loved playing Japanese games and listening to Taiko, traditional Japanese drumming.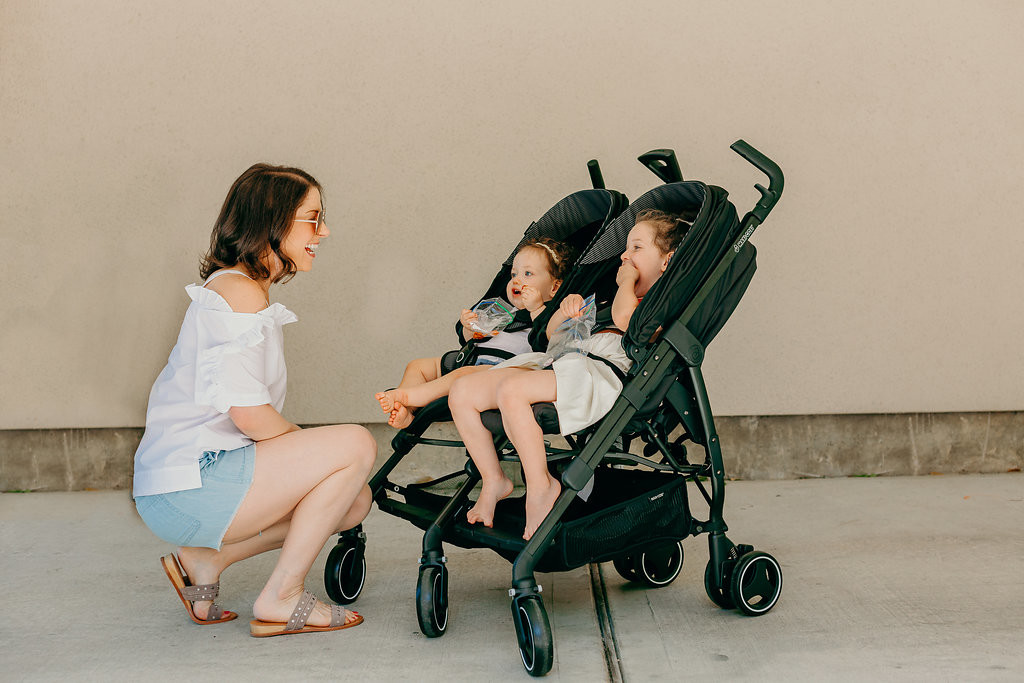 We also strolled around the neighborhood and hit up the park, thanks to some incredible weather. And our new Maxi-Cosi Dana for 2 stroller came with us on all our adventures. You may recall that we reviewed the Maxi-Cosi Adorra Travel System last year, and this stroller is just as good, but for both my girls!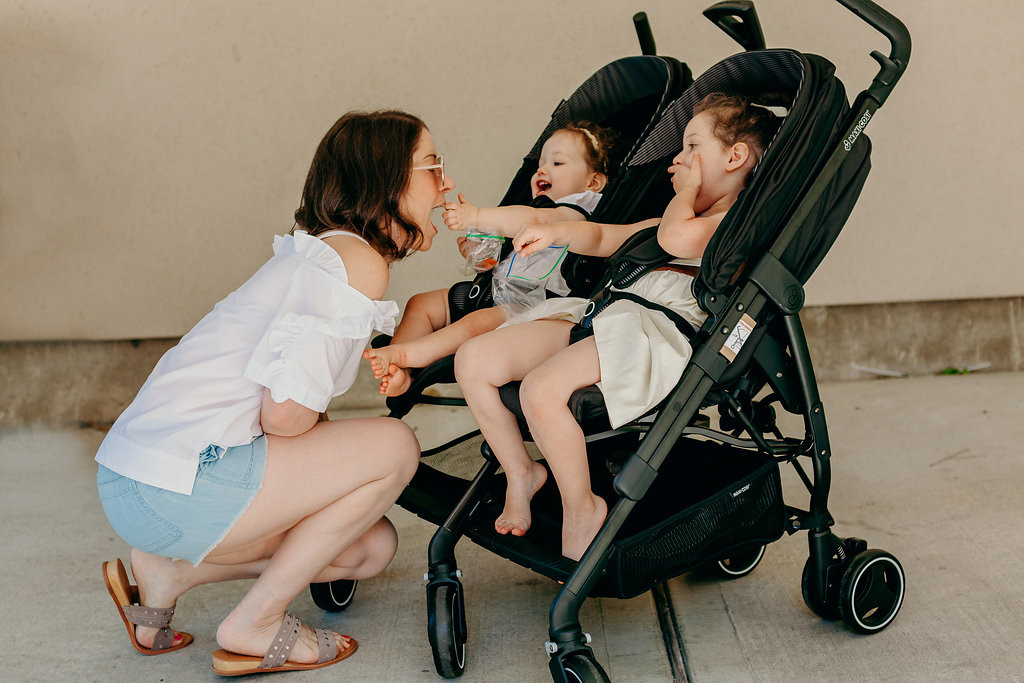 This stroller is sleek and cool, perfect for moms with two kids close in age, who wants something compact and easy to maneuver in all kinds of environments. When I first set it up and put my kids in it, I was concerned the thing wasn't going to fit out the front door. But not only did it fit, there was plenty of room to slide right through. Passed the first challenge! As with all Maxi-Cosi products, it's really good-looking… is it weird to say that about a stroller? I say no.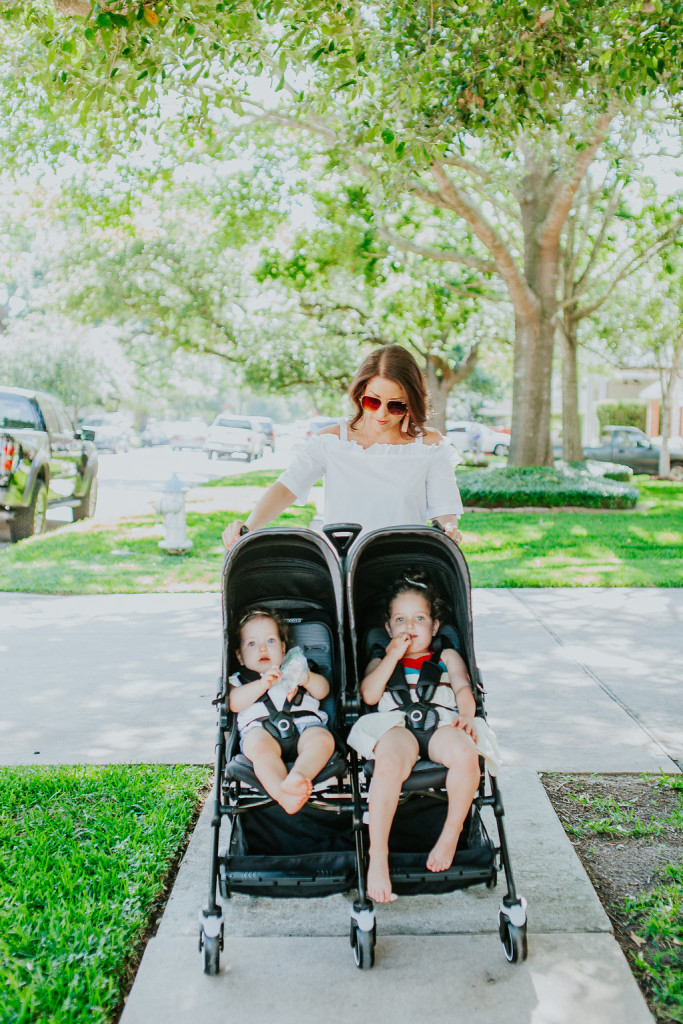 The Dana for 2 is sturdy and feels incredibly safe, especially for its size. It easily accommodated both a small toddler and a big toddler. It has lots of cool features, including great sun protection, a spring-loaded lock to prevent it from rolling when you need that, and it comes pretty much fully assembled, so even I could put it together with no issues at all.  More cool points for this sleek ride.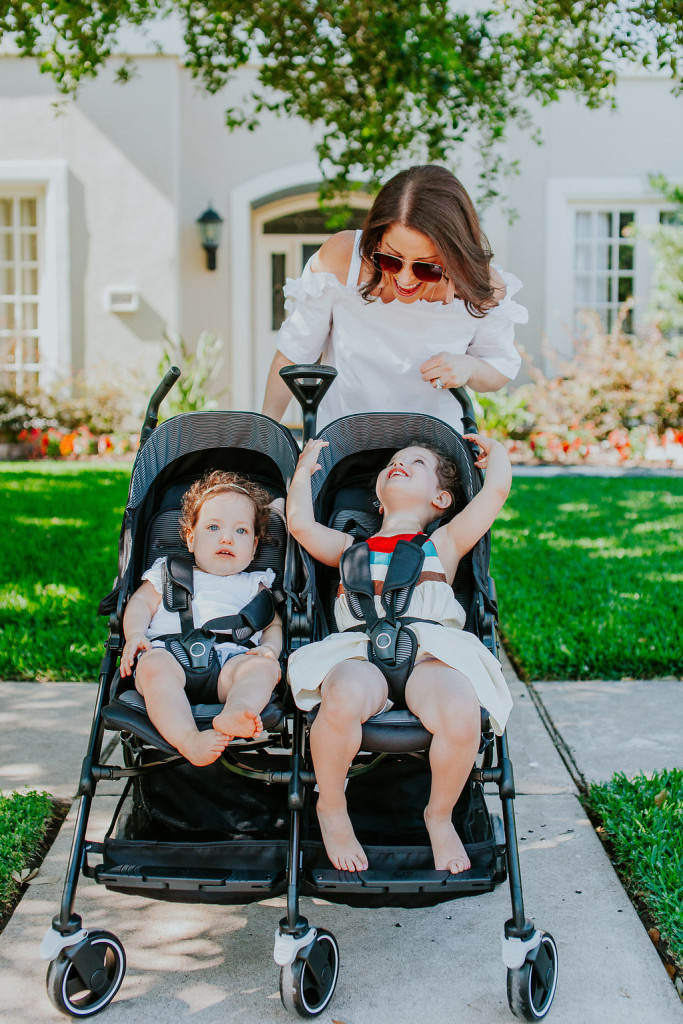 The extra-large canopies have this great mesh flap that lets you peak at your little ones when they don't think you're looking. We don't have a side-by-side double stroller, so it was a welcomed treat to see the girls sitting next to each other, chatting and sharing snacks. I know that the Dana for 2 adapts to accommodate two infant car seats, though I haven't tried that feature, since neither of my girls are in one anymore.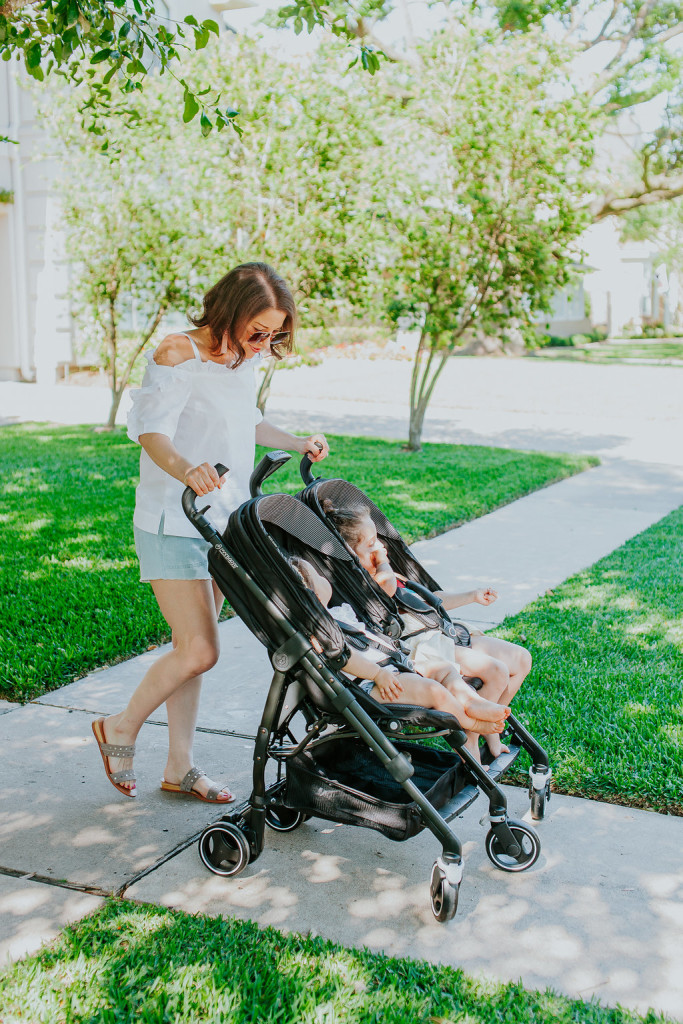 As a self-proclaimed cool mom, I loved that the cup holder was included and not an add-on purchase, because I pretty much always have a Topo Chico in my hand, and I need a good, solid cup holder. I also really liked the roomy storage underneath.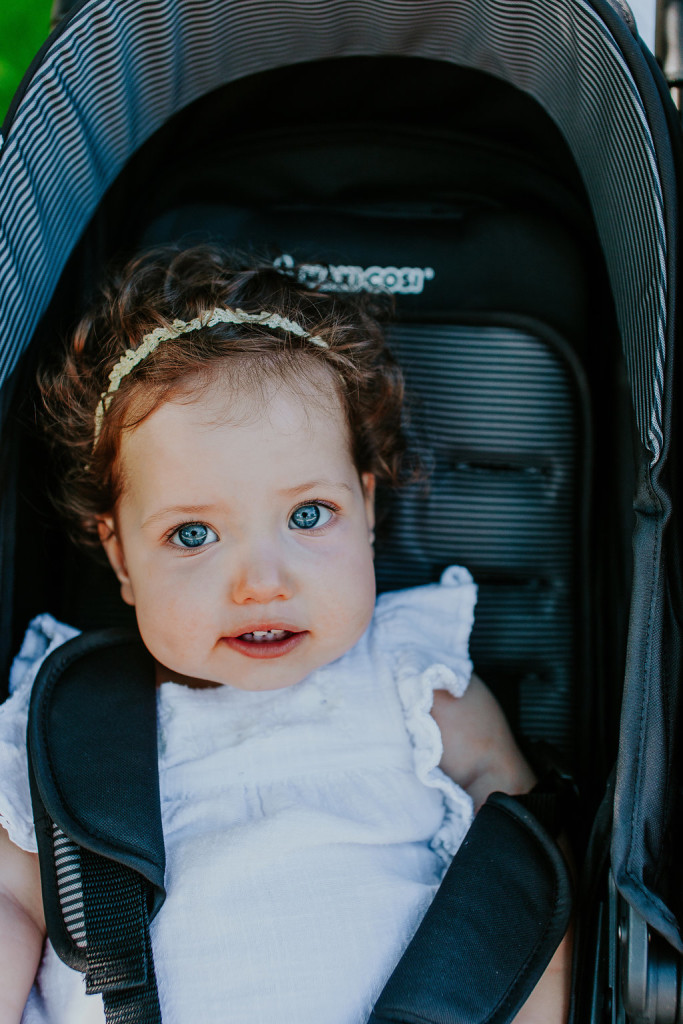 My only complaint was the middle wheel in the back of the stroller. I think it helps with a smoother ride and distributes the weight better, but my husband, who's 6′ tall, stepped on it a few times. Just a small thing I had to mention.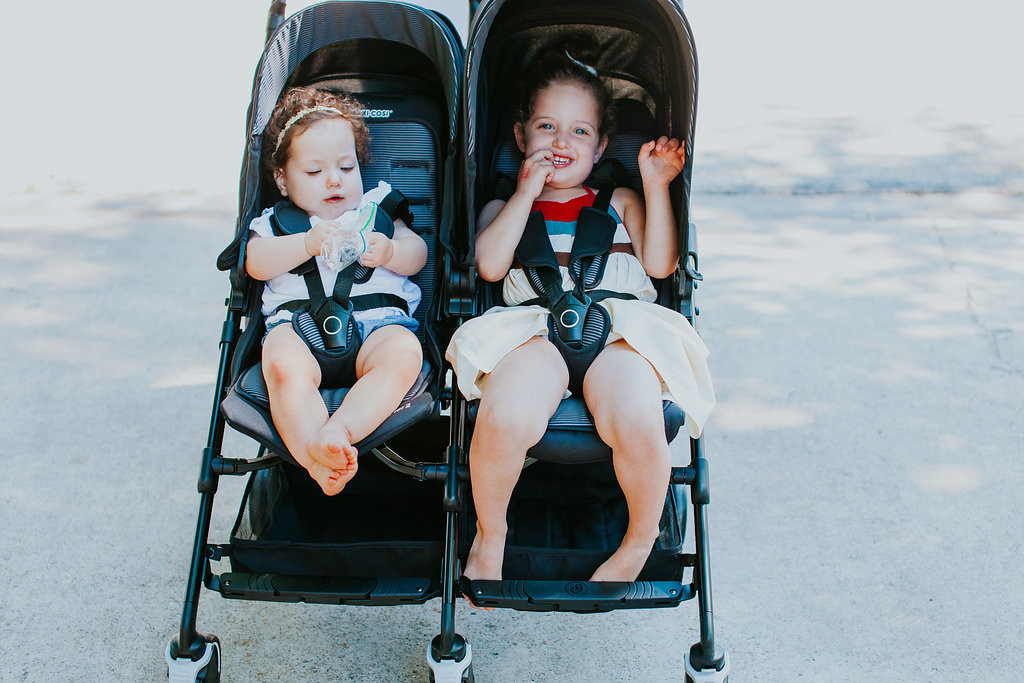 Overall, the Maxi-Cosi Dana for 2 gets a rave review from me and from my girls, who enjoyed cruising around in it all weekend, taking it for test drives on lots of different terrains. My 3.5 year old, who hates being in strollers these days, actually enjoyed sitting in it and didn't ask to jump in and out 1000 times, which is maybe the biggest win of all.
Make sure to visit Maxi-Cosi and shop all of their awesome products, especially the Dana for 2. Have a great week!
Photos by Le Zu Photography