Last year, I wrote about something deeply personal to me: that the hospital where I gave birth to Tova lost my mother's gold silhouette necklace. I was completely devastated by this loss, even though, yes, I know it's only a thing. Things connect us to memories, and that's all I have left of my mom: her things, and my memories. I have to keep her alive through these things and memories, so as they slowly disappear, piece by piece, it feels like she slips away even further.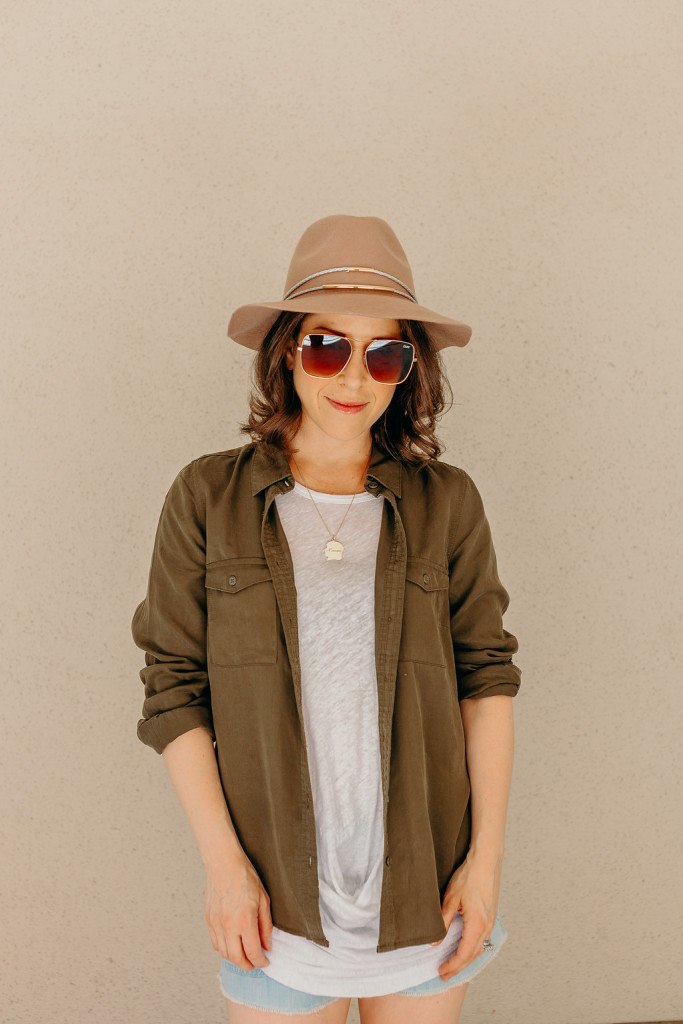 I can't very well put into words how tough this loss was for me. Leaving the hospital without my necklace, baby in my arms, I was overcome with a deep sense of loss that my most valuable possession was gone forever. That those memories taint my first few days with Tova makes me sad. I probably took it harder than I should have, but between pregnancy hormones, c-section recovery, and that loss, I was in over my head emotionally.
Cut to this past September. I teamed up with one of my favorite local jewelers, Zadok Jewelers, for a fun styled shoot  featuring some of my favorite local blogger moms and the most gorgeous jewelry for moms that is both cool and modern. Their PR director had read my blog post about that necklace; she wanted to remake it.
Truthfully, I put off doing it for awhile, because I wasn't sure I was ready to remake it or if I even wanted to. Something so special, something that had been your mom's as a little girl, cannot be replaced. It just can't be. But after thinking on it for several months, I kept coming back to it: I wanted that same necklace, if I could have it.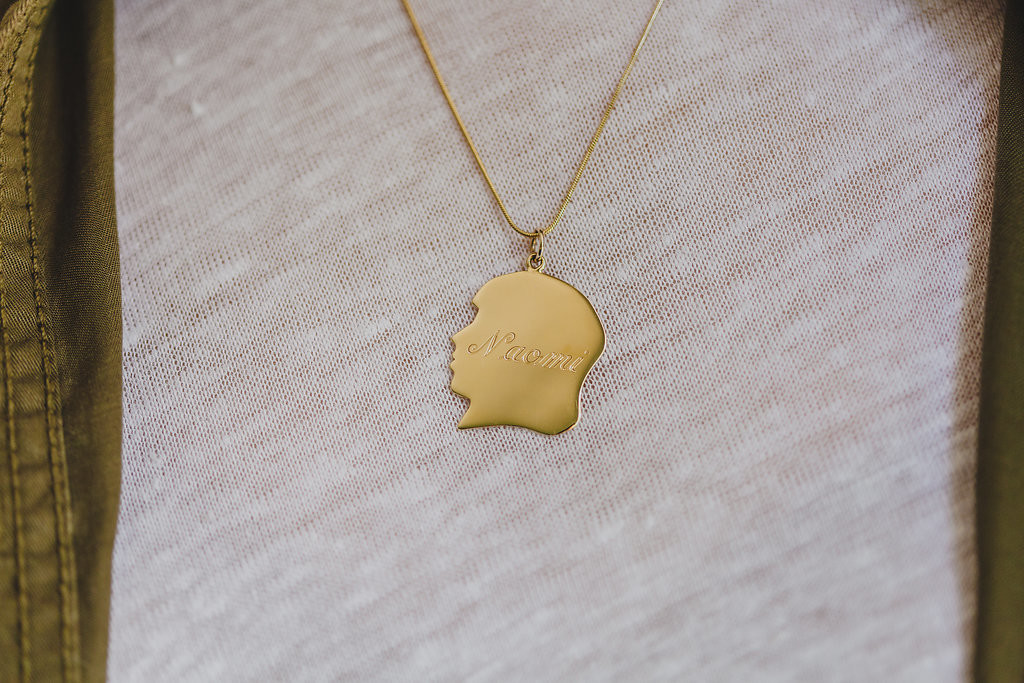 So the team at Zadok Jewelers sprung into action. I found a picture of it that I'd posted on Instagram 90-something weeks ago (yes, a LONG time ago), and sent it to them. And the morning I showed up to my monthly blogger breakfast — last month hosted at Zadok Jewelers — they gave it to me.
I was obviously emotional, but overjoyed to have it. I put it on immediately and haven't taken it off since.
I love that my new gold silhouette necklace is simple and dainty, and that it's hand-engraved, just like the original. The master jewelers at Zadok Jewelers can do anything and make anything. They custom made my engagement ring too, and I still love it as much as the day I got it (though I have to give my husband a good amount of credit for that).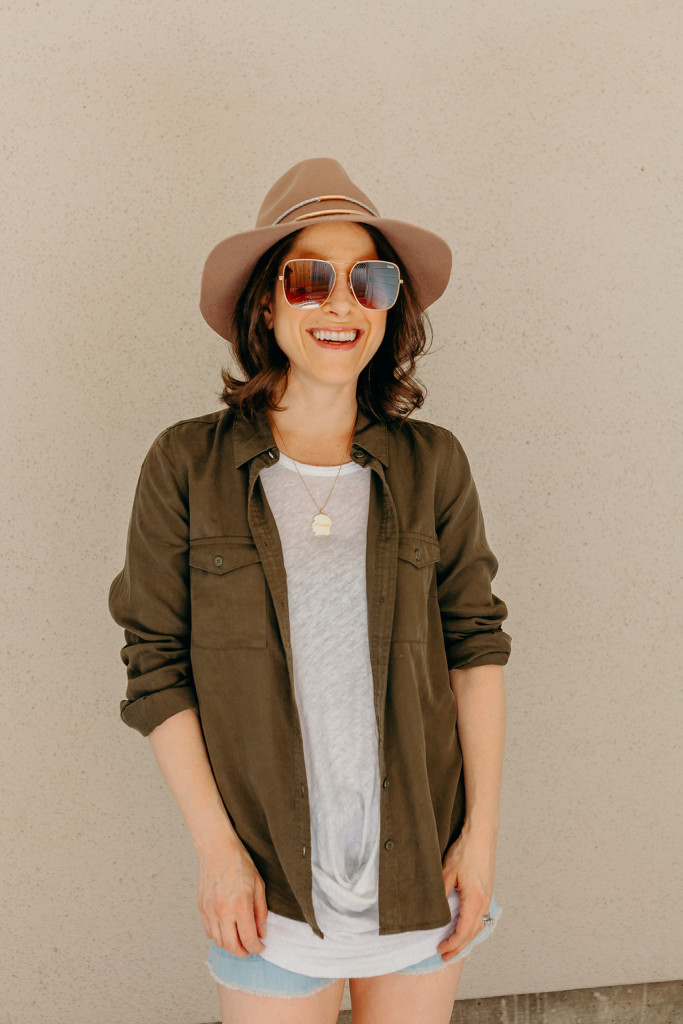 I styled it here with my Michael Stars felt hat (similar here), favorite army green button-down (similar here) and white tank. It can dress any outfit up or down, and it's a great layering piece.
If you're interested in having a gold silhouette necklace made for yourself, give Zadok Jewelers a call.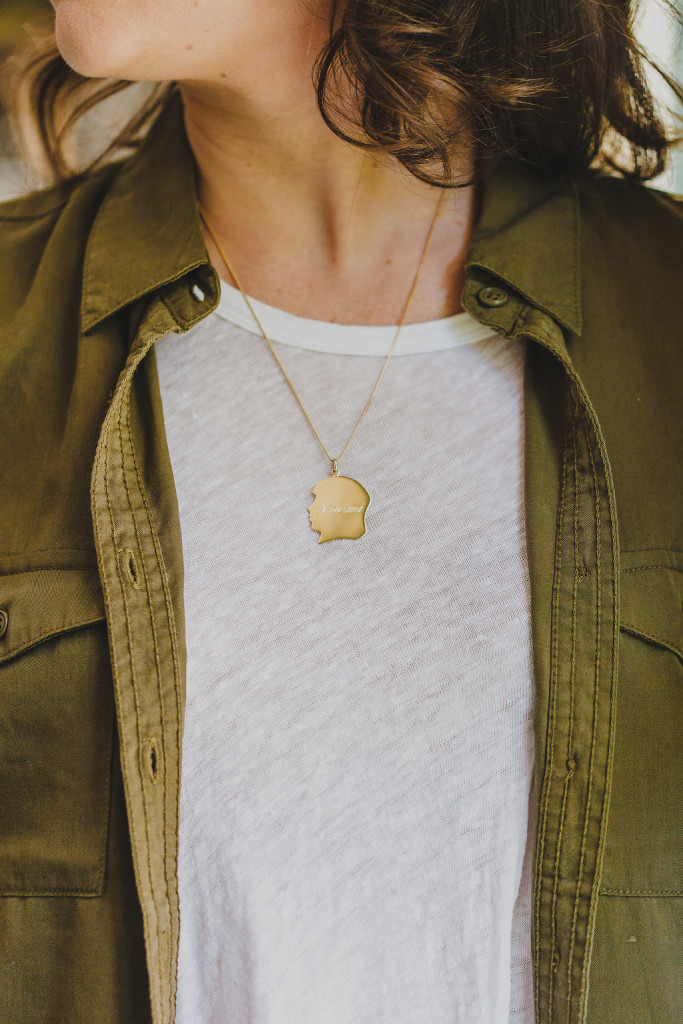 Many thanks to the team there for turning a terrible situation into such a positive one. I'm forever grateful.
Images by Le Zu Photography