Hi there, friends. What a Summer it's been so far! I'm so excited to share with you all what's been happening around here at cuteheads HQ. Hang on to your flutter sleeves, because we've been busy.
Summer Pop-Up Shop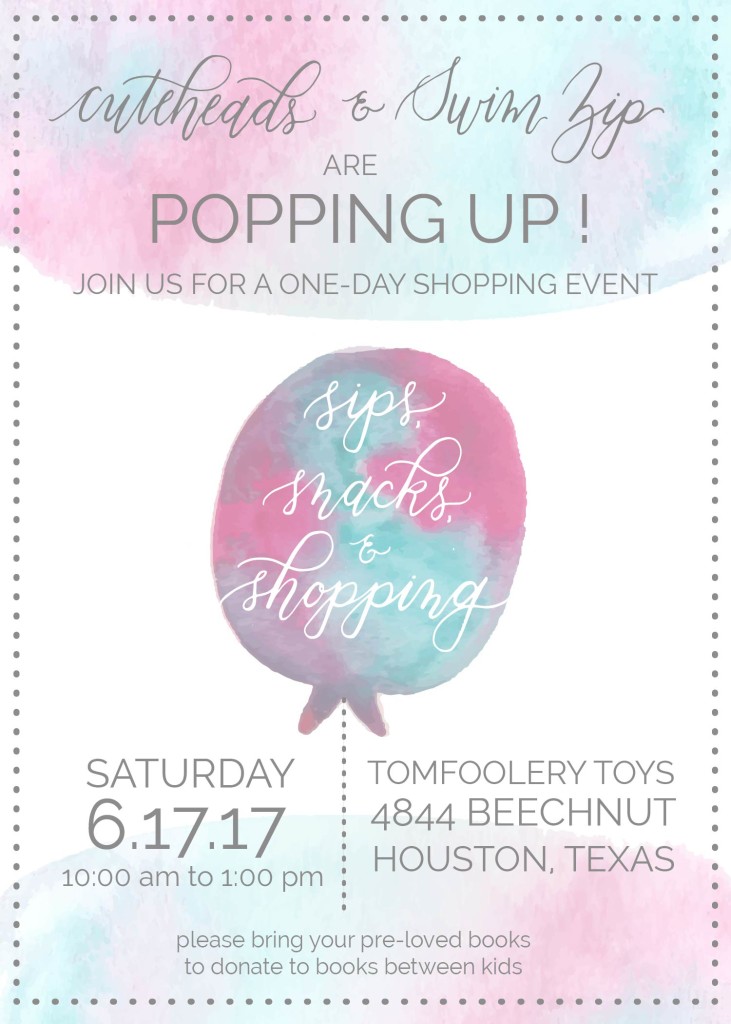 First off, if you're in the Houston area, join me this weekend as cuteheads pops up with our friends at SwimZip! Founder and designer Betsy Johnson is flying in from Kansas City to join us for this one-day event, where you'll be able to shop all things cuteheads in person, and shop the adorable, 50+ SPF line of swimwear from SwimZip. The event happens from 10 to 1 am this Saturday, 6/18 at Tomfoolery Toys, Houston's favorite boutique store for toys and books. We've got two amazing bloggers hosting this event: Laurie from L. Rose and Jordan from Lattes & Living. They'll be on hand to chat with shoppers and even read stories to the kids so you can shop and enjoy.
PS – how gorgeous is this invitation by Camel and Birdie? I love teaming up with local creatives, and this invitation far exceeded my expectations!
A few fun details:
The first 30 people through the door will get a VIP swag bag with all kinds of #shopsmall and #shoplocal goodies, including merch from Subsidy Shades, Jax Grill, Three Brother's Bakery and more.
We've teamed up with Books Between Kids! Bring in your gently-used books to donate and you'll get 10% off your purchase of new books at Tomfoolery Toys.
You can get all the details and let us know you're coming on Facebook. That way you'll get a reminder before the event starts. See you there.
New Summer Products
Last week, we launched several new pom pom dresses, and they've been such a hit! Our Fancy pom pom dress is a best-seller, so we knew these would be a huge hit too. They come in 3 gorgeous, Summery shades, perfect for playtime or party time. Available all the way through size 6T.
One of my favorite parts about this shoot we did with Le Zu Photography is that we got to team up with two other awesome small shops: Gemma + Filo (those awesome fringe necklaces) and Tomfoolery Toys (where we're hosting the pop-up on Saturday). It's always so much fun collaborating with other brands I love and respect.
Shop the Caitlin, the Bella, and the Sunny now.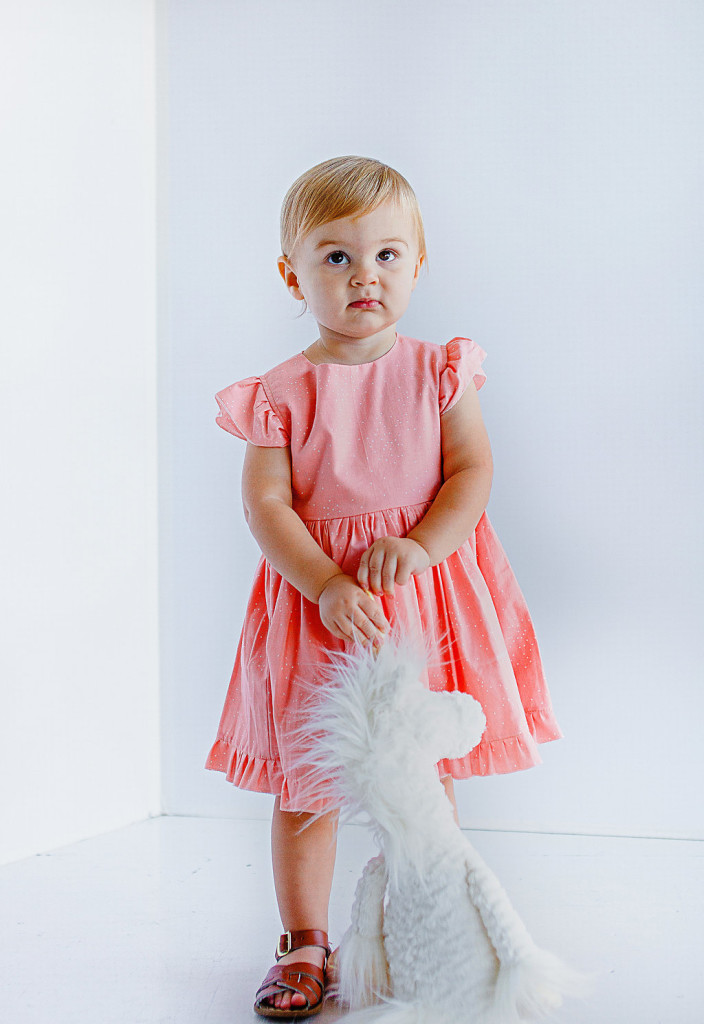 We also launched the Skylar dress just today, and the response has been amazing! It's already sold out in select sizes.
cuteheads is Now a Part of Dressed Collective
I'm also pretty excited to share that cuteheads has been accepted into Dressed Collective, a collective of small, handmade shops working together to help each other grow. It's a group of owners and designers that I've admired for a long time, and I can't wait to see what amazing things we accomplish together.
We've also got some MAJOR things in the works, like: a film shoot, a website redesign, brand new designs and collabs with a few of your favorite bloggers, and more. 
If you want to be the first to know what's happening behind the scenes, make sure you join our private VIP Facebook group, The cuteheads Crew VIP.
Have a wonderful week, my friends. x